The Pontificia Universidad Javeriana is centrally located in the city. The following hotels are located nearby – from 200 meters to 1.7 kilometers from the university:
HOTELES BH
HOTELES VIAGGIO
HOTEL L ´ETOILE:
For booking in the webpage, in "comments" send:
HOTEL EXPOSUITES
For booking in the webpage, in "comments" send:
ROSALES PLAZA HOTEL _ BOGOTÁ
link: www.hotelrosalesplaza.com
Código:  WRAB 2017
Página web en español: http://www.hotelcentrointernacional.com/?p=SCIWRAB
Página web en inglés: http://en.hotelcentrointernacional.com/?p=SCIWRAB
Discount 15%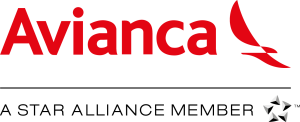 Asista a "IV VERSIÓN DEL CONGRESO LA INVESTIGACIÓN EN ESCRITURA A TRAVES DE LOS FRONTERAS. WRAB 2017 " vía Avianca y disfrute de tiquetes aéreos con descuento* entre el 5% y 20% sobre nuestras tarifas aéreas publicadas.
Reserve y compre su tiquete a través de nuestras líneas de call center y página web donde deberá ingresar el código de descuento del evento (GN003). Para compra en nuestros puntos de venta directos o agencias de viajes, además del código de descuento, deberá presentar su acreditación de asistencia al evento (inscripción o invitación).
*Los descuentos no aplican sobre tarifas promocionales o privadas, ni sobre el valor de los impuestos, tasas aeroportuarias, tarifa administrativa, sobrecargo por combustible y demás cargos aplicables al momento de realizar la reserva. Estos descuentos aplican desde todos nuestros destinos y únicamente en vuelos operados directamente por Avianca y las aerolíneas del Grupo TACA: TACA International Airlines, S.A., Aviateca, S.A., Nicaragüense de Aviación, S.A., Líneas Aéreas Costarricenses, S.A., Trans American Airlines, S.A., Transportes Aéreos Inter, S.A., Isleña de Inversiones, S.A. de C.V., y Servicios Aéreos Nacionales, S.A.